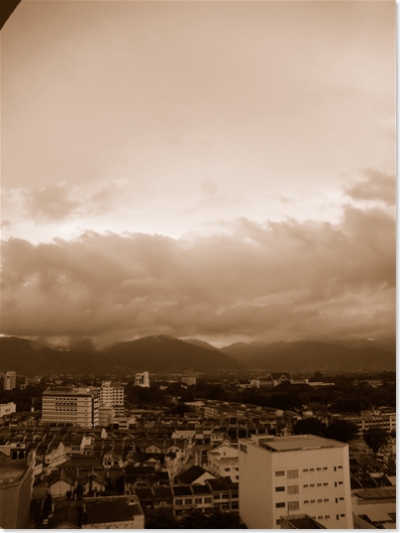 This is a special post for my new American friends and old Ipoh pals who feel like taking a trip home through time to our beloved Ipoh.
I found these pictures in Flickr taken by various people and picked the few I liked best, just to give you a peek at where I grew up.
Do visit their Flickr pages by clicking on the images.
You can read a brief history of Ipoh here (not sure how accurate the info is).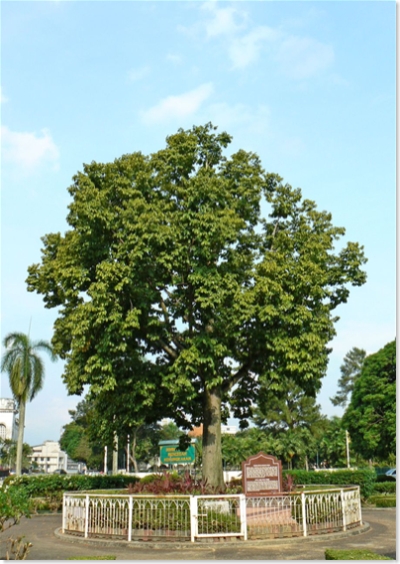 Ipoh, pronounced "ee-po", was named after the Ipoh Tree, pictured here.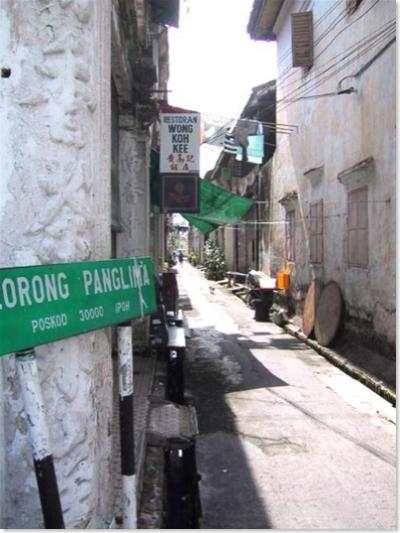 These are photos of what we call "Ipoh old town". I blogged many times of my Koo Ma's saloon. This is what the back of it used to look like. Of course, it will always look new and freshly painted in my mind's eye.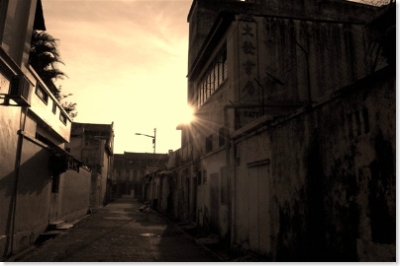 Another one in Sepia of a backlane at sunrise.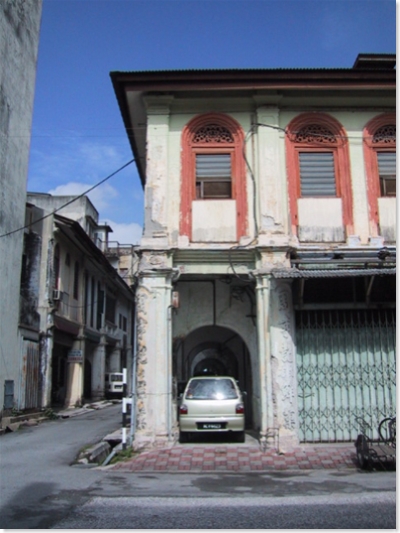 And this is the front.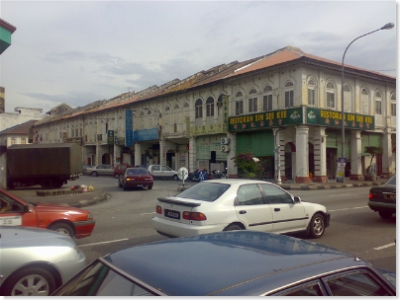 This is just one block from Yau Tet Shin street, if my geography is still accurate.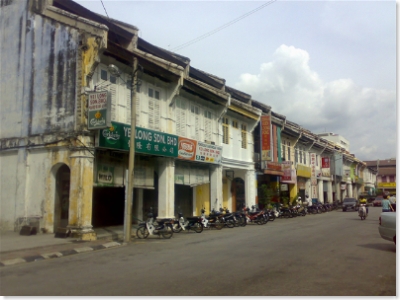 Traveling by motorcycle is very popular in Ipoh, as we are a small city and our roads are not wide.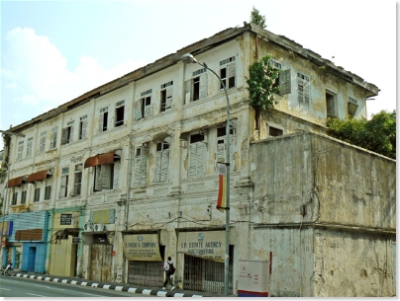 It is both nostalgic and sad to look at these old buildings, which will be torn down one day to make way for newer ones. These are perhaps one of the last pictures of old Ipoh shops. Dylan Lim has an eye for such sights. Be sure to visit his Flickr page for more.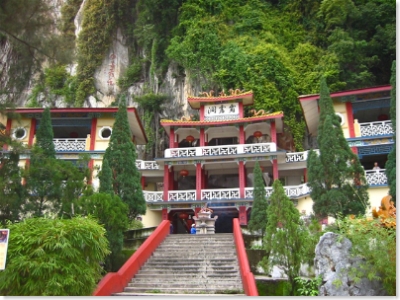 One of the few tourist attractions of Ipoh, these Chinese temples are built into the limestone mountains, adjoining caves that contain some of the most fascinating natural architectures in the country. I used to be terrified of the idols in these caves, for some reason. Everytime I walked into one, I would feel a chill and yet I'd continue to explore, staring up on the sometimes angry, sometimes benign faces of the deities and gods, saying a silent, fervent prayer in my child's head throughout, asking for forgiveness for ANY indiscretion.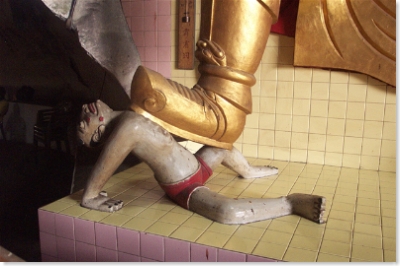 Can you blame me, with sculptures such as this?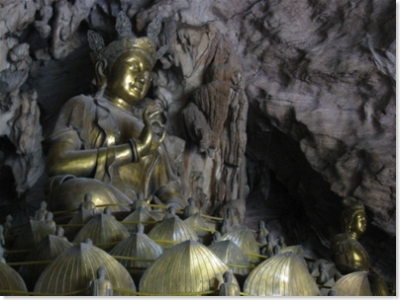 Ah, the ever serene Buddha. The only comforting sculpture, next to Kuan Yin, that made me feel better.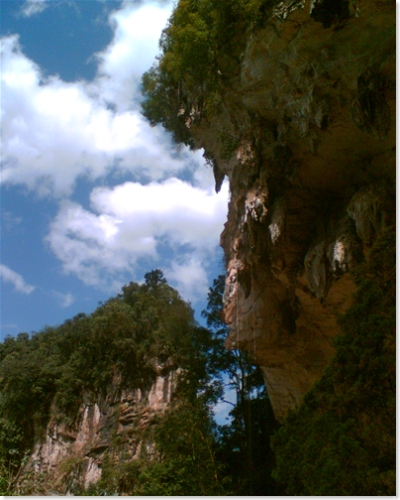 The famous limestone mounts.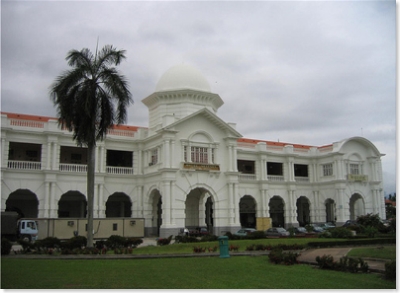 Ipoh has many beautiful old colonial buildings, remnants of the British occupation. This is train station, restored almost to its former glory, and is fondly remembered as the Ipoh 'Taj Mahal'.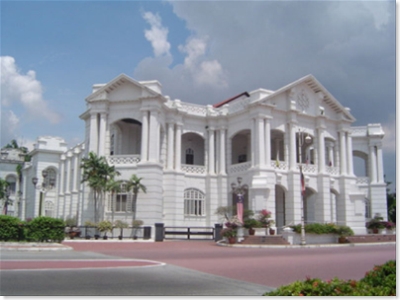 This is our city hall, also given a fresh coat of paint. It was designed by a British architect named A.B. Hubback, whyo designed many of the colonial buildings in our country, which is why many of the heritage buildings in Kuala Lumpur, Penang and Ipoh have that moorish style to them.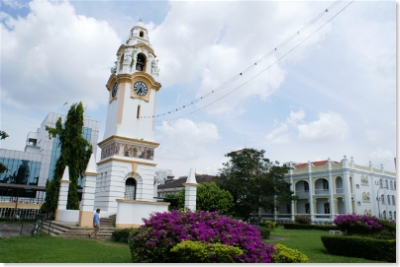 Our clock tower.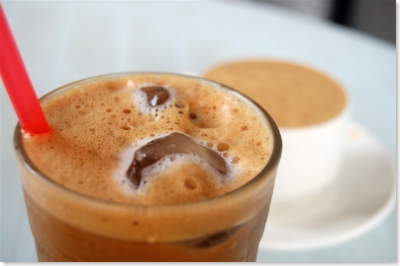 Ipoh is also famous for its cuisine. This is 'white coffee', which until today is still my favourite type of coffee in the world, and I live in Starbucks land. It's a taste of home I guess. Luckily, Ranch 99 sells the three-in-one kind. It's not the same, but it's better than nothing.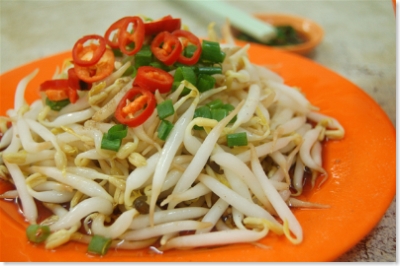 Another dish Ipoh is famous for: Tau Geh, a hot salad of bean sprouts, soy sauce, pepper and chillis. I have eaten too much of this to like it now. I wouldn't mind a bite or two but taugeh has definitely made it into my list of aversions, for some reason.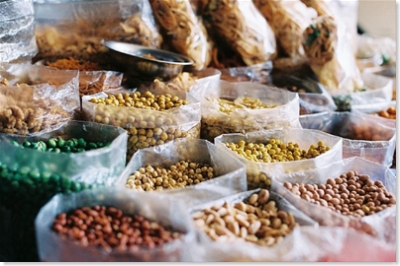 Good God. I've not seen this in ages. Called a 'kacang putih' stall, literally 'white nuts' (which is as you can see, inaccurate), these are stalls selling a variety of nuts and fried/dried snacks made from nuts and flour by Indian ladies. We had one just like this in our school. I'm not a nut fan but this definitely brings back memories.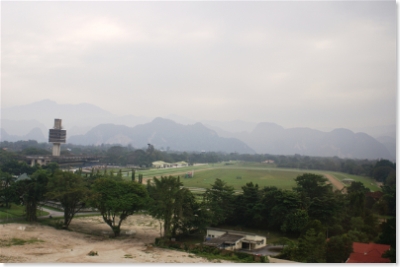 This is a picture overlooking the old Turf club, a race course infamous for making many a chronic gambler lose his/her home or even a life. Of course, the Turf Club has now ceased operations, and has become a beautiful recreational park, called the Sultan Abdul Aziz Recreational Park.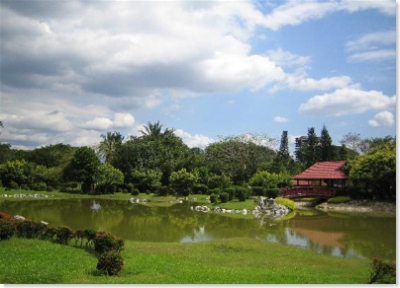 I spent much of my youth in this here Japanese garden. Good times.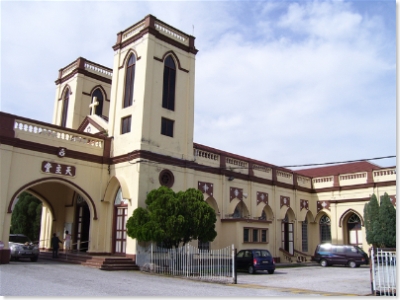 This is St Michael's Church, where an old school friend of mine just got married. This picture is taken also by an old school friend of mine, Janice. Good times, Jan!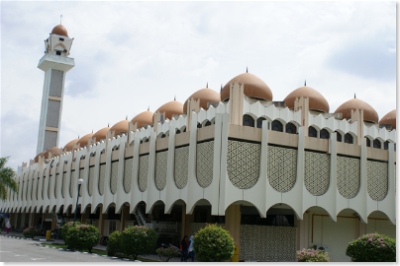 The largest mosque in our city. Places of worship coexist peacefully in our multi-cultural country. Mosques, churches and buddhist temples, all in perfect harmony.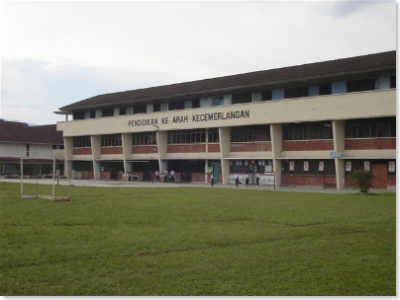 The Anglo-Chinese School, a boys-only school, was the 'brother' school of the Methodist Girls' School Ipoh, my alma mater. A few of my old 'boy friends' were from ACS. It makes me smile remembering the 'good old times'.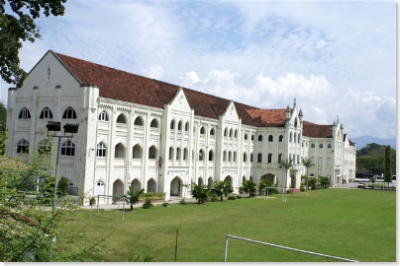 This is the St Michael's Institution, a rival boys school of ACS. This building has a lot of history behind it, as it was used as a base for the Japanese during their occupation. So by history, I mean ghost stories of how soldiers were buried in the school grounds, the very grounds used to kick a ball around et al. A few boyfriends from here too. God, I'm such a slut.
Sadly, I could not find a good one of my own alma mater.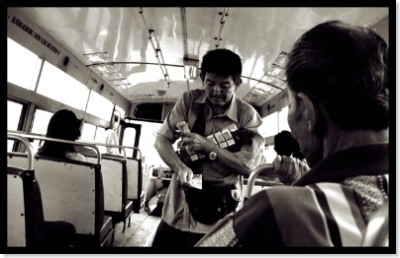 This is an unbelievable recent picture. I used to ride on buses like this one, with conductors like this man here holding a wooden board with a rubber band that had tickets for various destinations strapped on. Tell him you need to go to Batu Gajah, he'll take a 35 sen ticket (the old price, of course), punch two holes in it to say you've paid or something (or perhaps the time?) and hand it to you. This is a priceless photo.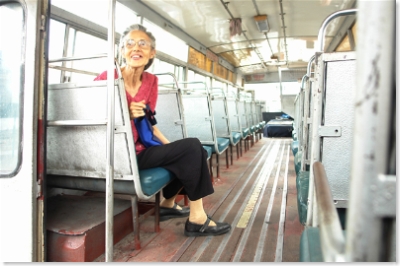 An almost empty old bus. Check out the metal backed seats.
I miss Ipoh.
I miss my friends, my folks, the food. The quiet, unassuming life that I was once so eager to be rid of. Will it have changed so much when I have the chance to return? I hope not. Still, Ipoh will always be my home, and maybe, I will be fortunate enough to return to it one day, if it will still have me.
The above photos are taken by these Flickr photographers:
Paul Khor
Dylan Lim
Soupscience
Mun Keat
Adrian Furby
McGun
Jan Koch
Ellis Bartholomeus
Vinc
TK Yeoh
Bentley Smith
Dr Fizzwizzle
Christina Leong
Richard Beddard
fotocentesis
Jon Lin
Janice Leong