It's a phlog, with the amount of photos I've been uploading these days.
Anyway, the Snow Series continues.
We took a drive around Duvall this evening to suss out a place for the girls to play and decided to go up the hill where more snow should've fallen, and found ourselves a little Winter Wonderland.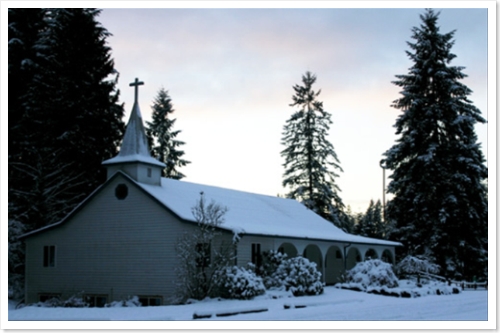 This is a community church near where we live. I've been looking at reacquainting with God for a while now, if just to expose the girls to a little religion, see how they feel about it (Lokes is an atheist but he is very respectful of my choices, bless him, and believes the girls should be exposed to all things in and of the world, including the notion of something, or someOne, bigger than us).
If I do decide to go through with it, I'm looking at a small community church, like this one. I used to attend Canning Garden Methodist back in Ipoh when I was a kid. And when I went to KL, the ex introduced me to the big old charismatic Assemblies of God, which freaked me out a little. Once, when I was at another of life's crossroads, after a particularly intense morning service, a woman who spoke in tongues and had the gift of special 'sight', came up to me and told me I was a leaf being eaten away by a caterpillar. Turned out the caterpillar was my ex. Long story short, this leaf left. After that, my experience with organised religion somewhat spiralled to nothingness. I don't know. Maybe it's time? Is me suddenly coming upon this church a sign? If so, it's certainly a pretty one.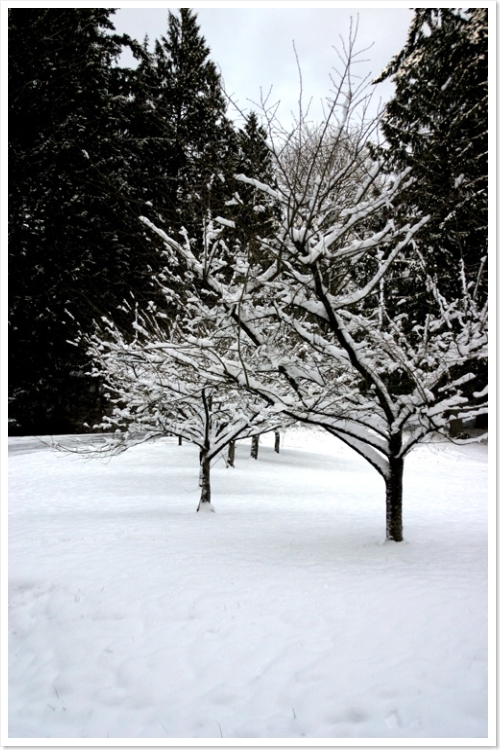 This row of trees stand guard outside a house that's for sale. That's a good four to five inches of unperturbed snow. So pretty.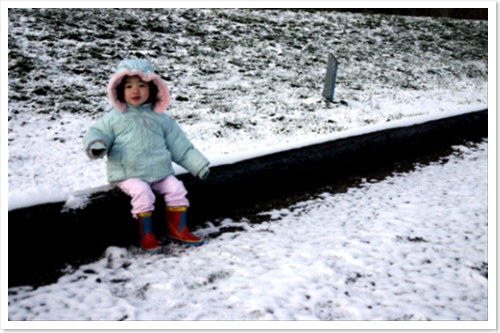 And this little girl here got her first frozen bottom from sitting on snow. "Coooollldddd," she said to me after two minutes, but refused to get up.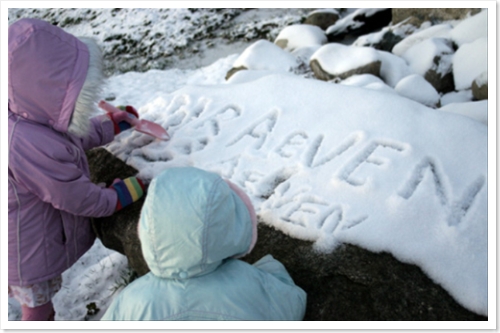 Writing on snow.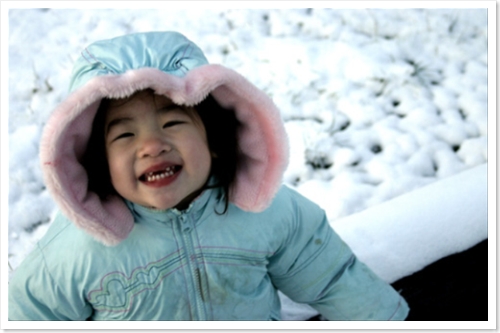 And I leave you now with Skyler wishing you a snowy but safe week.
Copyright © 2006 The I'mperfect Mom. This blog is for non-commercial use only. If you're reading the entirety of this entry on another website (excluding your RSS aggregator), please email me to report copyright infringement so legal action may be taken. Thank you.