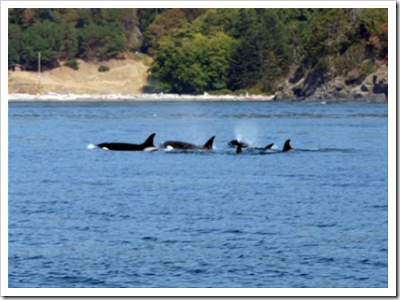 This post is two days late. Been really lazy and I usually don't like to blog on weekends.
But here are the pics. It was quite an amazing, albeit tiring experience because the whole trip, including travel time was about ten hours. 1.5 hrs to Anacortes from Redmond, then the boat ride was five to six hours (and as a parent, you guys know how THAT went down), and then another two hours to amble on home.
We don't really have very powerful lenses so we couldn't take closer shots and there's a law against going closer than 100 yards of the pods. We saw a baby orca as well and two transient pods in addition to a native one, which the captain-cum-tour guide of the boat said was quite a rarity. Aside from the orcas, we also saw porpoises and seals. It was fascinating.
Could've been MORE fascinating if Sky had cooperated more (she isn't interested in anything she can't put in her mouth). Most of my time was spent in constant panic that she would fall overboard AND entertaining her with food.
Note to self: No more long boat rides until Sky turns four.
Whale-watching season extends until middle of September I reckon before it gets too cold. For more info, visit islandadventurecruises.com.
In other news, the lovely Jenn and her family visited all the way from Minnesota. Had themselves a little tour going to Vancouver, Canada and then down south to drop by in Seattle to scout the area (they're thinking of relocating here). It was the first time we met since 'bumping' into each other on the blogosphere. Justin, her hubby, just happens to be Malaysian so we really had a good dim sum brunch exchanging stories about home (back in Malaysia and here in the US).
What's truly amazing about Jenn is that she's a cancer survivor, and to meet someone who's gone through such a life-altering experience and emerge unfazed and still be upbeat about life (she has two beautiful kids – Sebastian and Fiona, who are just precious – and she had them AFTER surviving cancer), it is truly inspiring.
I do hope you will decide to live near us, babe! We'll have SO much fun.
After dim sum, Lokes and I took a short drive to Duvall to scout the place out. Upon Karli's suggestion, we decided to check out this quaint little township just 20 minutes away from Redmond. Built on a hillside overlooking acres of farmland, Duvall has only one main street lined with both old world charm and new developments. I fell in love with it immediately. Lokes has mixed feelings.
We're meeting with our agent today to discuss criteria. I am freaking out with excitement.