Having slept half the day away, Lokes and I decided that perhaps dozing the other half away might just be pushing our luck, so we packed two beaming kids (poor things hadn't been out since yesterday morning) off to Crossroads Mall for some shopping and dinner like a regular family for the first time in two months.
Not sure why but at about 5pm, the place began germinating geriatrics. No disrespect meant but it'd seemed as though we might've crashed the Old Fogies Convention or something, complete with a five-piece polka band and a chess tournament. Never seen so many white heads since I'd last visited my nose, and that was before Rae was born.
Strollers were fighting for space with walkers. A sea of white, grey and summery-floral, with intermittent animal-prints at the food court and in front of the stage where the band was setting up. Lots of toothless cooing at Rae and Sky.
As much as we'd liked to hang around for the music to start, just to see if some of the old folks would actually get some action in a nicely fenced area I presumed was for the dancing, I was too distracted by the Old Navy outlet. Made a teeny little stop to check out their summer Madras 'collection'.
And just when I thought our day would pass without incident, a shrill voice accosted me from behind, broadcasting to half the store right in the middle of the swimwear aisle:
"MOMMY, DO YOU NEED SOME SWIMMING BOOBIES?!!"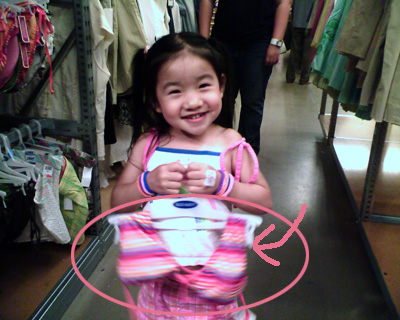 Never a dull moment, I tell ya.
Didn't buy anything in the end.
Now if they REALLY did sell swimming boobies instead of just bikinis…